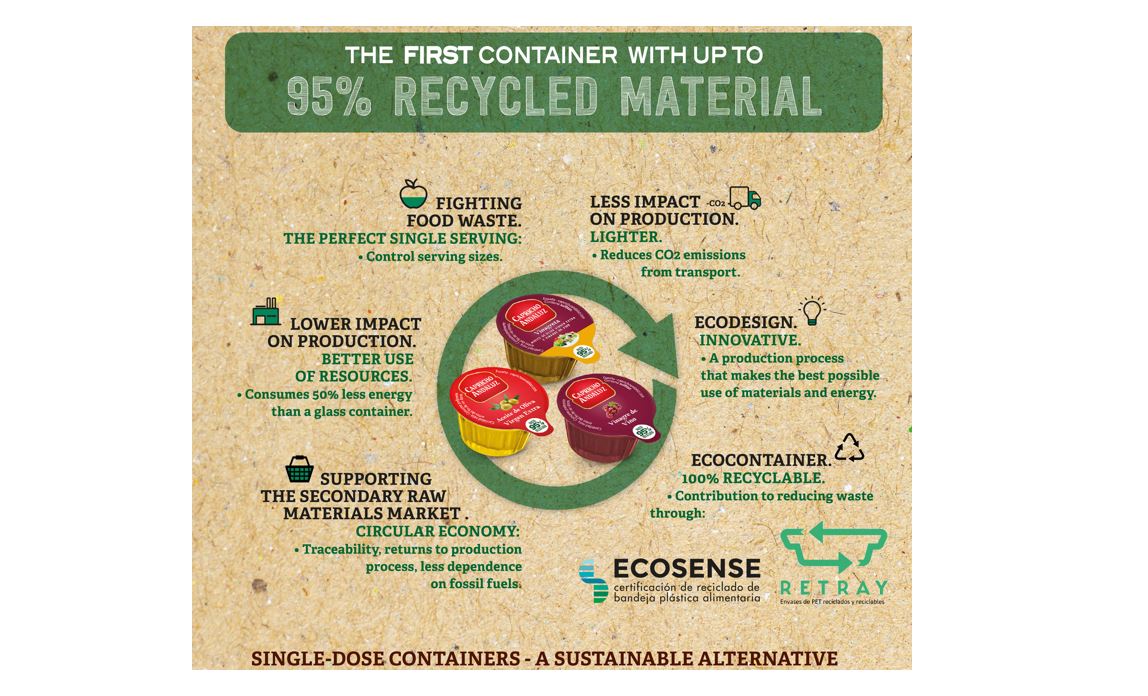 Capricho Andaluz, is the first olive oil bottling company certified with RETRAY and ECOSENSE
Capricho Andaluz obtains the RETRAY badge that extends the COSENSE E certificate,  already obtained in 2018, for its circular economy model.
The single-dose tubs of the brands Borges and Capricho Andaluz are recyclable and manufactured with recycled materials, thus guaranteeing the circular economy cycle.
 Capricho Andaluz, a company belonging to  the Borges International Group, has been certified with  the RETRAY distinction  granted by the Plastic Sense Foundation. RETRAY allows  Capricho Andaluz to expand the scope of the  requirements already certified in 2018 that granted it the ECOSENSE distinction  for the incorporation of  recycled plastics in the manufacture of  single-dose tubs, thus consolidating a circular economy model in multilayer plastic containers.
Likewise,the RETRAY distinction, also  granted  by the Plastic Sense Foundation, accredits the  work of those companies that introduce transparent recycled PET as a secondary raw material in their production processes that comes from otherrecycling processes of the tray-to-tray circuit approved by the Foundation.
Thanks to this accreditation, Capricho Andaluz becomes the first oil packaging company to obtain both certifications and meet the requirements of the PS-RPM-ENV Packer Procedure (name attributed  to packers who meet the requirements assigned to  these certifications ) in relation to the use in their production processes of recycled plastic material from multilayer polymers.
The objective of this circuit is to improve the management of waste from PET trays and sheets to transform and reuse them into new sheets and trays. Working with this circular model,  Borges is gradually reducing the volume of non-recyclable waste, whose preferred final destination is recycling carried out by approved recyclers in order to guarantee its correct treatment and the availability of material for the tray-to-tray circuit.
Committed to sustainability, Capricho Andaluz, has proposed different alternatives to minimize its environmental impact and promote, in turn, the use of good practices where it is present. For this reason, all the varieties of single-dose tubs of the Group (extra virgin olive oil, wine vinegar, balsamic vinegar from Modena, soy sauce or vinaigrette) are endorsed by the ECOSENSE and RETRAY certifications, which guarantee the circular economy between the sheet supplier, packer and recycler, all of them being  located in the same region and thus promoting efficiency and sustainability with proximity suppliers.
With these certifications, Borges demonstrates its concern for the protection of the environment, providing sustainable solutions and anticipating the new legislation following its strategy  in terms of sustainability, under the concept of "Committed by Nature", which  involves prioritizing the use of recyclable materials in the manufacture of its packaging, reducing the consumption of plastics through lighter packaging.  and  using recycled material, to ensure sustainable consumption and production patterns. For this reason, thetubs packaged by Capricho Andaluz contain up to 95% recycled material.