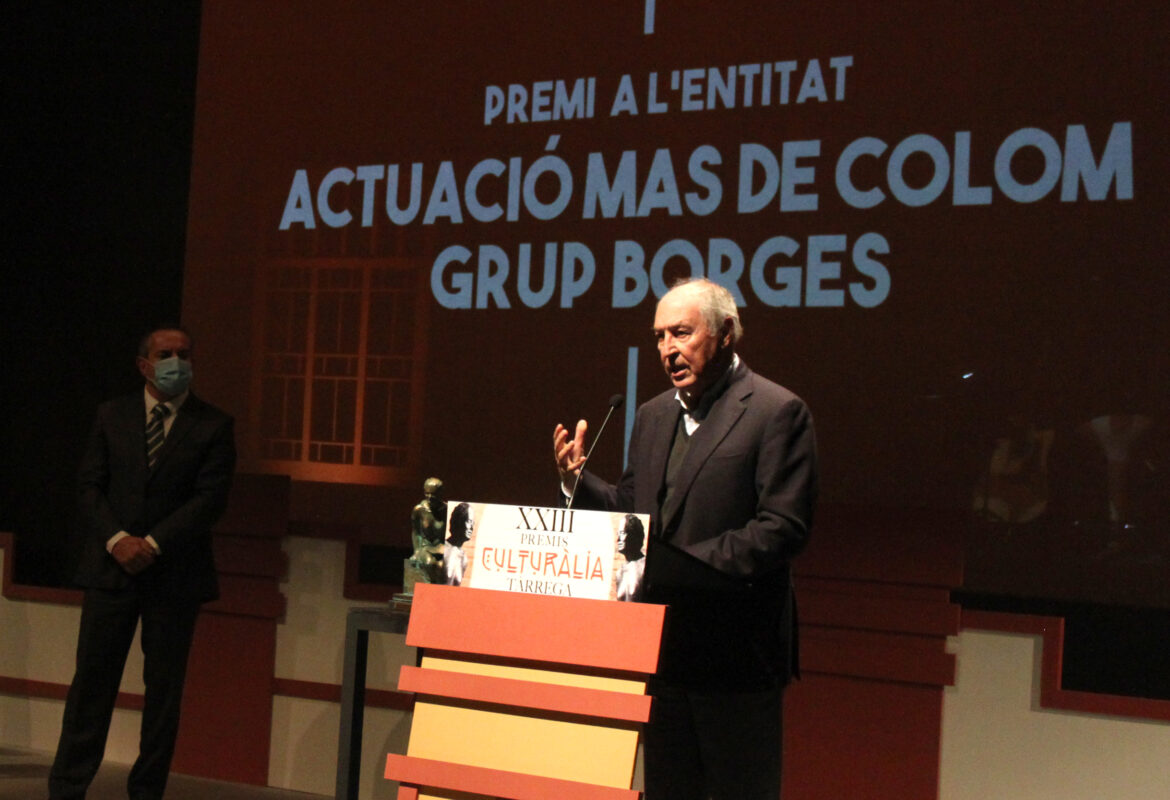 The Mas de Colom – Casa Borges project receives the Culturàlia award
Borges International Group receives the Culturàlia award, awarded by the Cultural Center of Tàrrega and the Department of Culture as a driving force for the recovery of the heritage of Mas de Colom
Last Saturday, November 27, the Cultural Center of Tàrrega and the Department of Culture of Tàrrega awarded The Culturàlia Award for the project carried out for the recovery of the heritage of Mas de Colom – Casa Borges, an old Cistercian farmhouse and monastery dating from the beginning of the 20th century, that will become the institutional headquarters of the Group, a point of union between values, brand, history, culture, traditions and biodiversity, located in a unique environment.
The old convent and farmhouse are located on the Mas de Colom farm in Tàrrega and  now converted into an experiential  center  that projects the values of the Borges Group,    which  connects  with  local history  and  highlights the  uniqueness  of the heritage equipment,  which is also conceived  as an educational space  informative and didactic, on the conservation of biodiversity and food based on  healthy lifestyles. All this  surrounded by an agricultural environment with an extension of about 70 hectares that become a sample of the main products marketed by the Group,  pistachios,  almond trees, olive trees and walnut trees.
The Mas de Colom farm has more than 10% of the area for the conservation of semi-natural areas included in the Natura 2000 Network. The conservation, promotion and dissemination of these protected natural areas together with the promotion of biodiversity improvement on the Mas de Colom farm are part of the Biodiversity Action Plan, a national collaborative project coordinated by the Global Nature Foundation, an experienced and prestigious entity in the execution of projects for the conservation of biodiversity at an international level. Since the beginning of the year, among other actions, more than 500 plants of ancient fruit trees and species of special interest for their traditional uses have been planted, as well as the use of plant covers in order to reduce the risk of pests and reduce the use of pesticides in crop management. This Action Plan will help to retain carbon in the soil, reduce erosion and mitigate climate change.